IDENTITY IS THE SECRET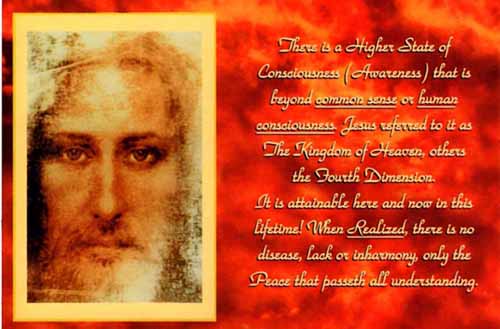 IDENTITY IS THE SECRET
The great healer Joel Goldsmith was once asked by two ministers if he would teach them meditation. Allegedly the abbreviated story goes: Yes gentlemen I will, but first of all you answer me two questions. First of all do you believe that Jesus is the Son of God? Yes well obviously we do was the reply! Do you believe that I am the Son of God? There was a deadly hush with no answer. Okay then said Joel, do you believe the scriptures when it says 'call no man your father upon the earth for one is your father which art in Heaven'. They caught it immediately! Ministers, you do well in omitting passages of scripture that you do not understand.
The world is full of those who do not yet know that they are 'joint heirs in Christ with all the heavenly riches'. They are in spiritual darkness and up till now gentlemen you have been leading that spiritual darkness….
CHRIST CONSCIOUSNESS (ENLIGHTENMENT) IS IN EVERY PERSON
George Fox the Quaker said 'God's light is in every person……..' In today's language it would probably be 'Christ Consciousness is within every person. Buddha simply called it 'ENLIGHTENMENT'. The Catholic church took re-incarnation out of its teachings at Constantinople in AD 553. Before that it was one of the pillars of Christian belief. Most of Europe and nearly 25% of the United States is Catholic. 'IMAGINE' a world where every person CONSCIOUSLY KNEW they had the potential for Christ consciousness and Enlightenment and could live in accord with their TRUE IDENTITY and 'Body of Light' where disease, ageing and death is unknown.
'GOD'S LIGHT IS WITHIN EVERY PERSON': GEORGE FOX QUAKER 1660
'NO ONE SAVES US BUT OURSELVES': BUDDHA
'THE KINGDOM OF HEAVEN IS WITHIN YOU': JESUS
'THE LIGHT OF CHRIST OR SPIRIT OF CHRIST IS THE INNER REALITY OF EACH INDIVIDUAL': ANNA LEE SKARIN.
'THERE IS NO DISEASE IN A FULLY CONSCIOUS BEING'
Suggested reading for Higher Consciousness
'Parenthesis in Eternity' Joel Goldsmith
'Christ in you' Joseph Benner
'Ye are Gods' Anna lee Skarin
'You are the Splendour' Marie S. Watts
'Cosmic Consciousness' Dr. Bucke
'Now' Alfred Aiken
'Autobiography of a Yogi' Paramahansa Yogananda
'Greater Works' Lilian de Waters
………………………………………………………………………………………………………………………………………………………
CLICK HERE TO DOWNLOAD FREE PDF
CHRIST CONSCIOUSNESS (ENLIGHTENMENT) IS IN EVERY PERSON
We re-incarnate time and time again until the lion in us lays down with the lamb in us, the crusader lays down with the healer and the brave heart merges with the empathy, love, wisdom and understanding that unites us all. For in truth the light of Christ Consciousness, Enlightenment or Buddha Nature is in all of us, waiting for us to recognise it as our true self. It is the birthright of every person.
There is no disease in a fully conscious being.
Usunlimited
REMEMBER – THE CHRIST IN YOU
Click here to download 'REMEMBER' Pdf.
THERE IS NO GOD SEPARATE AND APART FROM YOURSELF. YOU HAVE WHAT YOU EXPRESS…….. BECAUSE THE WONDERFUL THING ABOUT CONSCIOUSNESS IS THAT IT'S ALWAYS COMPLETE.
THERE IS ACTUALLY ONLY ONE CONSCIOUSNESS NOT THE MANY (THE APPEARANCE WORLD IS THE MANY). THE APPEARANCE WORLD (MAYA) ALONG WITH ITS LOWER VIBRATION IS ALWAYS FULL OF DISEASE, DEATH AND SUFFERING BECAUSE OF ITS LOW VIBRATION. ALL DISEASE, AGEING AND DEATH OF THE PHYSICAL BODY IS SIMPLY A LACK OF AWARENESS OF THE ONE AND ONLY CONSCIOUSNESS IN EXISTENCE AND ITS MUCH HIGHER VIBRATION. IT'S THE CONSCIOUS KNOWING OF THIS THAT TURNS THE BODY TO LIGHT.
THERE IS A HIGHER CONSCIOUSNESS THAT IS BEYOND COMMON SENSE, TAKING THOUGHT OR THE MENTAL REALM. IT HAS A MUCH FINER VIBRATION, A DIMENSION OF LIGHT AND LOVE WHERE ANGELS AND LIGHTED BEINGS LIVE. IT IS THE BIRTHRIGHT OF EVERY PERSON
THERE IS NO GOD SEPARATE AND APART FROM YOURSELF. YOU HAVE WHAT YOU EXPRESS.
ALL HEALINGS (REVEALINGS) TAKE PLACE WHEN YOU EXPRESS FROM YOUR GOD SELF…..BEACUSE THAT IS YOUR TRUE NATURE, YOUR TRUE VIBRATION.
CONSCIOUSNESS IS ALWAYS COMPLETE. IT'S WHAT YOU PUT INTO CONSCIOUSNESS THAT DEFILES IT AND MAKES IT A LIE………………………..
……………………………..GOD IS JUST ANOTHER NAME FOR CONSCIOUSNESS………….
………………………………YOUR CONSCIOUSNESS….
THERE IS ONLY ONE QUESTION YOU HAVE TO ASK YOURSELF
WITHOUT JUDGING YOURSELF OR OTHERS THERE IS REALLY ONLY ONE QUESTION YOU HAVE TO ASK YOURSELF. WHAT IS IT IN YOU THAT IS BLOCKING YOU FROM BEING A FULL EXPRESSION OF THE LIGHT ON THIS PLANE OF EXISTENCE? I.E. THE FULL EXPRESSION OF HEALTH, WEALTH, JOY AND EVERLASTING LIFE HERE AND NOW IN A LIGHTER VIBRATIONAL BODY. BECAUSE GOD IS JUST ANOTHER WORD FOR CONSCIOUSNESS……YOUR CONSIOUSNESS
Usunlimited
YOUR CONSCIOUSNESS ALWAYS BECOMES FORM
Your body is an outpicturing of your consciousness. If you live consciously in the infinite invisible world of completeness called spirit, that completeness will show up in the manifested world as a lighter vibrational light body where disease, ageing and death are unknown……. it has to , it hasnt got a choice because when you loose all sense of separation from a god separate and apart from yourself you are living in the one and only consciousness in existence which is always complete and whole…..
There is no disease in a fully conscious being
usunlimited
Consciously living your infinite self
By living in and as your infinite self and going into your infinite self all things are possible because you and your father are one. So you can use the body…..the body does not use you!
usunlimited
There is no disease in a fully conscious being
Healing is just revealing the perfection that's already there.
usunlimited
Conscious knowing is the only thing worth truly possessing.
Why is this man blind master? So that he may manifest God! Life is always pushing us into conscious knowing, the only thing worth truly possessing. Eventually you come to the place where you consciously know you are not in the body….the body is in you! – the one energy called spirit, the one consciousness beyond time and space that functions all things in their completeness and entirety.
With the conscious knowing of this one has risen in consciousness beyond separation to the place where he can truly say with the greatest of humility 'of myself I can do nothing but he who has seen me (the manifestation) has seen the father, for I and the father are one …..'
usunlimited
The resurrection is the resurrection of a higher vibrational already perfect body (the light body).
The wise man knows that the light of the body of the natural man is but a reflection of the scientific Christ man.
usunlimited
Usunlimited has a dream………. that every man, woman and child may consciously know that the Christ (enlightenment) is within them……… …..what they do with it after that is up to them!
It would appear that the worlds mental energy (the mist over the land is thinking) has been slowed down and almost stopped over the last 18 months or so to allow the causal energy of pure light and its perfect ideas to have much more impact on this plane of existence……..because beyond thinking is knowing a vibration of timelessness (time only exists in the mental realm). A realm where lighted fully conscious beings exist which is everybody's birthright…….there is no disease in fully conscious beings.
usunlimited
THE CAUSAL BODY IS MADE OF LIGHT
As well as what this world calls instant healings (revealings) and because the veil is so thin now, we can be operated on from the lighted realms by lighted beings (some of these are known as angels).
Find a place that is quiet and comfortable to you. Lay flat on your back , relax and surrender to THE LIGHT THAT YOU ARE! Stop thinking and be thought free……CONSCIOUSLY KNOW that your light is the same light that lights up every person that comes into the world….the Christ light, the causal light!……..exactly the same finished all knowing light as the SCIENTIFIC CHRIST MAN OR WOMAN BECAUSE THE FINISHED YOU IS THE LIGHT OF THE WORLD!
usunlimited
Heaven in the here and now
The ocean can be quite flat without the motion (emotion) of the waves…….beyond absolutely land (the ocean) there's a place where the waves consciously know they're the ocean. Its in the here and now, and the waves are absolutely splendid.
I'll meet you there and we can play like children fearlessly with wings like angels
usunlimited
everything is already here. everything finished
We live in a finished universe made of light where everything is already here and already finished. All this plane of existence (the appearance world) does is make us fully conscious that we live in an already finished universe and that we are that christ (crystal) light.
usunlimited
COME FORTH LAZARUS
Come forth Lazarus. Start consciously living your infinite Self: infinite intelligence, infinite life, infinite health, infinite supply, infinite joy and infinite love because you and your father (that made you) are one.
There is no disease in a fully conscious being
usunlimited
WHY
Everything that happens to us in this body conscious dream (the appearance world Buddha called maya) is to wake us up to our true identity as spirit.
Why is this man blind Master? So that he may manifest God, true identity, everlasting life, spiritual consciousness!
He could just as well have asked why have I got body pain, why cant I find love, why is my relationship not working, why do I have financial problems, body disorders, no home, heart disease, etc. etc…?
Once we consciously realise that all that happens to us in this so called physical realm is solely there to wake us up beyond the body conscious dream to the energy that actually functions the body, spirit, light, to the one energy that functions all bodies in the universe we are well on our way to choosing the light instead of the story i.e. true identity which then includes the body……